LIVE Prayer Times
Prayer
Begins
Iqamah
Fajr
6:12

AM

7:00

AM

Dhuhr
1:25

PM

2:00

PM

Asr
4:27

PM

5:30

PM

Maghrib
7:07

PM

7:17

PM

Isha
8:37

PM

9:00

PM
Baitul Mukarram Islamic Centre Calgary
BMICC
Our mission is to provide a place and platform to practice the teachings of Islamic faith and the religious tenets taught to us by our beloved Prophet Muhammad (pbuh) for a peaceful, multi-cultural and harmonious society.
Subscribe to our membership list and be the first to receive latest updates on events
Convenient Location in Calgary
Situated at Unit 207 - 3770 Westwinds Dr NE, minutes from Mcknight / Westwinds LRT, in the heart of NORTHEAST Calgary, BMICC provides 5 times daily prayers, Jumu'ah prayer and also opportunities for recreational and friendly social activities reflecting the beauty of Islam, amongst the highest Muslim population within Calgary and surrounding areas.
A NOBLE CAUSE
In The Name Of Allah Most Gracious Most Merciful
Fund Raising activities are in progress to purchase a property for future development here in Calgary to establish a Cultural Center/Mosque where all religious and social activities will be held. Please donate generously for this noble project.
COUNSELLING SERVICES
BMICC - Services We Offer
Marriage Services

If you are looking to get married, Mabrouk CONGRATULATIONS!
Islam recognizes the value of companionship and advocates marriage as the foundation for families and channeling the fulfillment of a base need. Marriage is highly valued and regarded as being half of one's faith, according to a saying of Muhammad (pbuh).
A prominent figure in our community Kazi Shuja Rahman has the appropriate CLERGYPERSON license required for Nikkah / Marriage services. A religious marriage officiant, commonly referred to as a clergy person, or religious representative, is an official of a religious organization. The religious organization to which they belong authorizes them to perform marriages in Alberta.
The governing authority of a recognized religious organization registers its clergy/religious representatives with Vital Statistics before they can perform marriages in Alberta. A governing authority is the person appointed by a religious organization (for example: chairman, president, elder) to represent the organization to Vital Statistics for the purpose of registering religious marriage officiants. No person can lawfully solemnize a marriage unless registered under the Marriage Act. Please contact us via EMAIL for more information. EMAIL: bmicc.ab@gmail.com
Youth Programs - Halaqahs and more.

Helping young people incorporate islamic values and supporting them in their journey is a goal for all of us. We have weekly programs targeting our local youth with various activities. Sports is a great way to bring people together and this coming year we will build a soccer program for kids, teens, adults insha'Allah. We encourage ALL to bring your kids and share the good news of being closer to Allah Almighty.
Anti-Violence

"Under no circumstances is violence against women encouraged or allowed. The holy Qur'an contains tens of verses extolling good treatment of women. Several specifically enjoin kindness to women (2:229-237; 4:19; 4:25).
We at BMICC understand that POST COVID era has been very difficult for many in our community. Counselling for domestic violence by independent counselors who are trained in this field are available to BMICC members.
Bellow is a link that can help you.
https://www.canada.ca/en/public-health/services/health-promotion/stop-family-violence/services.html
Weekend Maktab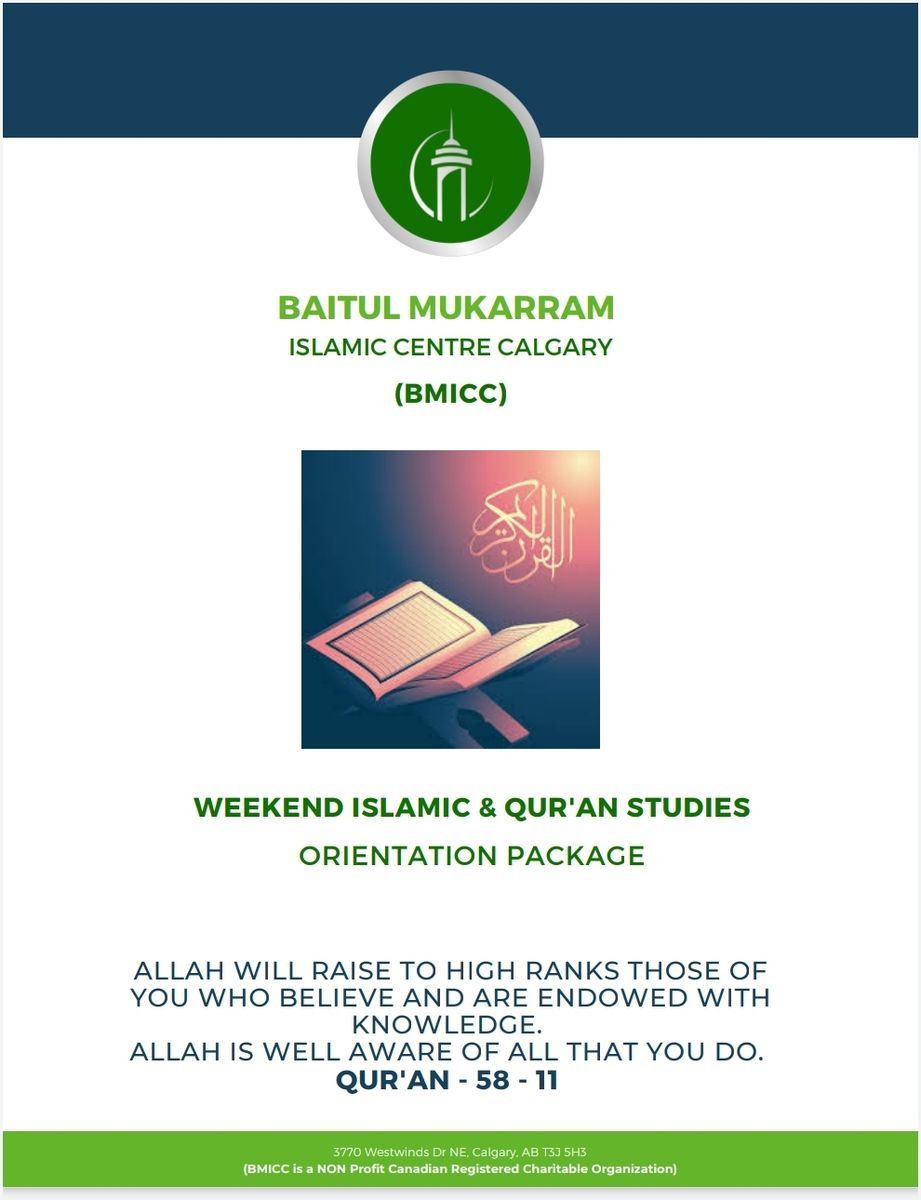 We as a non profit organization, have an amazing opportunity to help others learn about Islam and the teachings of our Prophet Muhammad (pbuh) therefore we feel blessed to operate a weekend Islamic learning program at BMICC led by several volunteers and teachers.
"It has been ordained upon you, when death is near one of you, leaving wealth behind, to make a will in favor of parents and close relatives, impartially. This is incumbent upon the pious" (2:180). What is an Islamic will? An Islamic will is a legally-binding document that stipulates to whom a person will be leaving their assets (property, possessions, money) to upon their return to Allah (SWT). This will take into account two groups of people: Ascendants: Including your spouse (husband/wife) and parents. Please email us for more information and we will connect you with the right party. In Sha Allah E: bmicc.ab@gmail.com